There are several ways to get involved with Santuri, whether you are an artist, organisation, or an interested individual.


We are a social enterprise, and have previously relied only on project funding from institutional donors such as Goethe-Institut, HIVOS, Pro Helvetia and the Dutch Embassy. However, to continue the work without gaps or downtime, we are transitioning into a business model that needs support from you - the music-loving community.

Please continue reading to find a way you can support Santuri to keep delivering impactful projects to the East African creative community.

If you would like to directly support our work and mission, head over
here
and become a Patreon. As a Patreon, you get access to perks such as free merchandise, as well as advanced news and content from the Santuri team. You'll also be a hero forever.︎
https://www.patreon.com/santuri







If you are in East Africa, you can also contribute directly via

M-PESA Paybill.

Paybill Number: 4054299

Account Number: Donate

If you are an organisation, collective, media outlet, or angel investor 😇, reach out to
team@santuri.org anytime!
Do you feel you could bring something to the Santuri team? Please get in touch for volunteering opportunities.

Email: team@santuri.org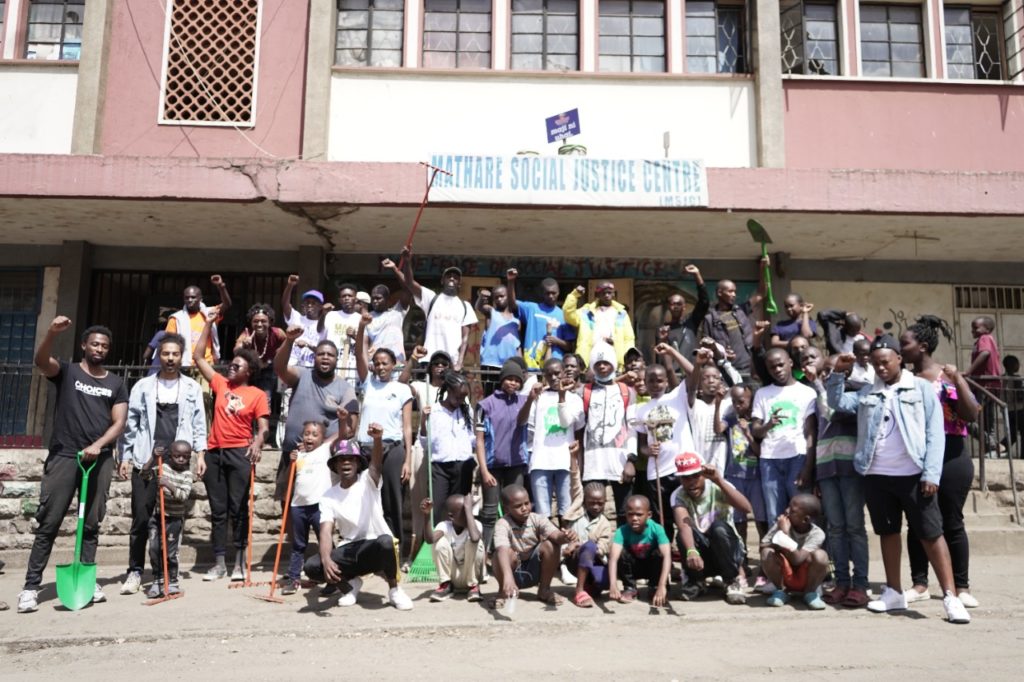 Students who successfully graduate from the Santuri Electronic Music Academy (SEMA) are eligible to join our SEMA Alums program.
The SEMA Alums program was initiated in January 2022, after realising the need for continued support and career sustainability for our students. As a SEMA Alum, you will recieve access to Santuri's equipment and space, networks, as well as exclusive income generating opportunities in the wider arts and music sector.

Our Alums pool is a livley community, currently comprised of over 120 SEMA graduates.

SEMA is honoured to have increased our students professional prospects through our DJ residencies around Nairobi, in addition to regional and international gig and performance opportunities.
Dear Alums,


As we are now marking 12 months of courses with SEMA, I wanted to reach out to all of you and share some insights, remarks and news from the Santuri team. I also want to share some ideas around our collective future, and how Santuri might grow and flourish as an organization with your support, and for our collective benefit.


This is a long mail, so if you don't have much time, here is the short version:


Our current funding for SEMA has ended
We want to continue offering the same services and courses, but need to create revenue to do so
We are opening a new space - the Santuri Salon - which will be focussed on providing benefit for alums and the wider community
We would like your feedback on some ideas we are looking to implement - please take some time to fill out the form here:
Alums Survey
Long Version
With five SEMA courses in the bag, as well as a cohort focussing on training our tutors, we currently have over 100 alumni in our Alums Program. It's incredibly humbling for Santuri as an organization to count you as members of our family.
One thing I realize is that from outside of the central staff core, it might be unclear how Santuri is operating. I would like to share with you a peek behind the curtain in this mail, and offer some ideas on how we might progress.
SEMA as a project was a concept designed by Santuri, but developed in collaboration, and funded by the Goethe-Institut. GI is the cultural wing of the German Foreign Office, active in both providing German classes around the world and supporting cultural activities in its many locations globally. Santuri submitted a proposal for conducting SEMA, and we were successful. So successful, that the Goethe-Institut extended our contract way beyond our original 4 month period!
This was truly a golden period - a supportive donor who believed in the things we were doing, and gave us the freedom to do it. Sadly, all good things come to an end, and as such, our funding relationship with the Goethe is over - for the time being.
Around the time we first started SEMA, we also received a donation from a major music company in South Africa, which supported us to amass various equipment, fixtures and fittings we needed for the project. This was additional to the donations we have received form various music technology companies such as Ableton, Native Instruments, Shure, ADAM and so on - connections I made through having worked in that sector in Europe for over 10 years.
So, that's how we got to where we are. It's been a process of piecing together support from various funding bodies, companies and supporters. I'm very proud that we always passed this on to our community, offering services for free such as access to hardware and software, studio time, workshops, courses, mentorship and so on and on.
However, the time has come for this also to be reviewed. Although we have always planned to transition to a more sustainable model, (involving creating revenue from some of the services we offer, while still fulfilling our commitments to the community), we are currently having to accelerate that process.
What does this actually mean?
We intend to continue with SEMA courses, but they will no longer be free.
We plan to also offer paid DJ courses.
We want to professionalize our studio services, gear loan and tech services, and create a revenue stream from our resources.
We want to further develop regular showcase opportunities for our community
We want to lead the way in showing how the music industry can be approached in a more equitable and community-focussed way.
Additionally - some of you may already know - we are opening a new space in the mall! The Santuri Salon will be our new base - a place for all of us to gather, collaborate, showcase, work and celebrate. We will have production stations (iMacs, soundcards, monitors, controllers, mics etc etc) and as Alums, you will have preferential treatment accessing this exciting new venture. We also have a small library stocked with books on music culture, and comfy sofas, WIFI etc. This space will only reach its potential if you, our alums, utilize the space for your own projects, and build our community together.
How do these changes affect the Alums community?
Well, that depends. Firstly, we want to find ways to better work with you and give you value from this community. That means hearing from you and what you most need or want from us. We also want you to feel a closer ownership over the community and our resources. As such, we are looking to implement a membership project for our Alums that will give you access to certain resources, and opportunities. For this to be successful, we really need your feedback.
Please take 10 minutes to share you thoughts here:
Alums Survey
We hope to maintain the multiple creative connections we've built with you and we hope you'll stay engaged with the community you've nurtured with us! Join us for the next big steps of this project!
Thanks for your time,
David