Santuri runs a wide range of events, from listening sessions and panel discussions to showcase raves and film screenings and workshops. See what's coming up and what's been happening below.
Upcoming

You've recorded your music, now it's time to put it out there. But how does online music distribution work? And which type of music distribution is best for you?
Welcome to the Music Distribution 101 workshop happening this Thursday at The Salon. Facilitated by Kalanzi Kajubi (@_lanzi), come ready to learn
• The different types of distribution deals
• How to independently distribute a song using a digital music distributor
• How royalties are disbursed by different distributors and so much more.
Don't miss out on this valuable opportunity to elevate your music career.
Class starts at 3pm till 5pm this Thursday 27th April.
See you at The Salon!
Our Jadili sessions return with a deep dive into the ethics of sampling traditional instruments and cultures. This complex topic raises questions about cultural appropriation, intellectual property rights, and artistic expression. Santuri is excited to present a conversation interspersed with small performances and demonstrations that attempts to unpack some of the knotty questions around this theme. We are honored to welcome Olith Ratego and Sven Kacirek of Odd Okoddo, Labdi Ommes and Bernt Isak of Unganisha, and David Tinning and La Music Junkie of Santuri. 5pm til 9pm Saturday April 22nd.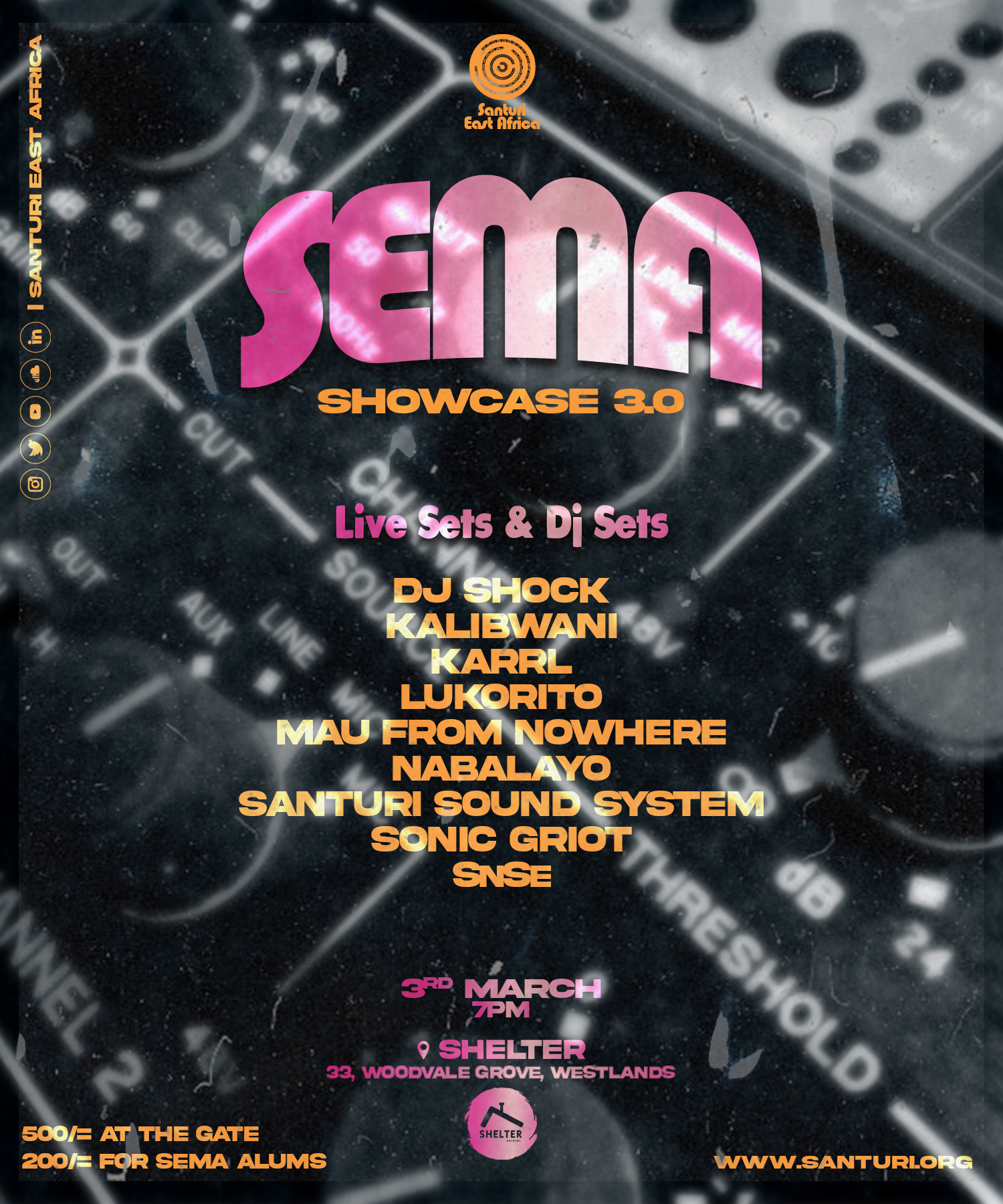 Vol.3 of our SEMA grad showcase is around the corner and we're super stoked to have you immerse yourselves in an evening of sonic greatness.
On the lineup we have amazing live sets and Dj sets by:
DJ Shock
Kalibwani
Karrl
shar.ondabeat
Lukorito
MAU FROM NOWHERE
Nabalayo
Santuri Sound System
Sonic Griot
Sense
Tickets:
500/- at the gate
200/- for SEMA alums.
See you on the 3rd of March at Shelter, 33 Woodvale Grove from 7pm till late.
Friday the 13th January 2023, we invite you to our campus at The Mall, Basement, Westlands from 1pm - 10pm for our second SEMA OPEN DAY!!!
In this edition we will be hosting two more activities which are Jadili Panels with Project SISI - a conversation with Manch!ld & KMRU and a panel on Amplifying (East) African Artists, a conversation with Kikelomo Oludemi, David Tinning and others.
USISEME HUKUAMBIWA! HAKUNA KULALA PARTY ipo SANTURI!! LEO NI KUSABABISHA Vibaya Pale The Mall Basement,Westlands.
10PM mpaka Chee!
Come experience a proper function in Nairobi like no other courtesy of nyegenyegefest staples rey sapienz and lady hash, kuiyucreates and Nairobi chief @budalagi.Special guests in the plenty.
Kosa Uchekwe!
Santuri is teaming up with Unseen Gems & Goethe Kino this week for another live film scoring with artists Freddy Muia and Budalagi. Prepare yourself for an exhilarating and suspense filled ride as Nosferatu celebrates its 100th year with a chilling new soundtrack!
7pm, Unseen Nairobi, Wood Ave, Kilimani