Santuri runs a wide range of events, from listening sessions and panel discussions to showcase raves and film screenings and workshops. See what's coming up and what's been happening below.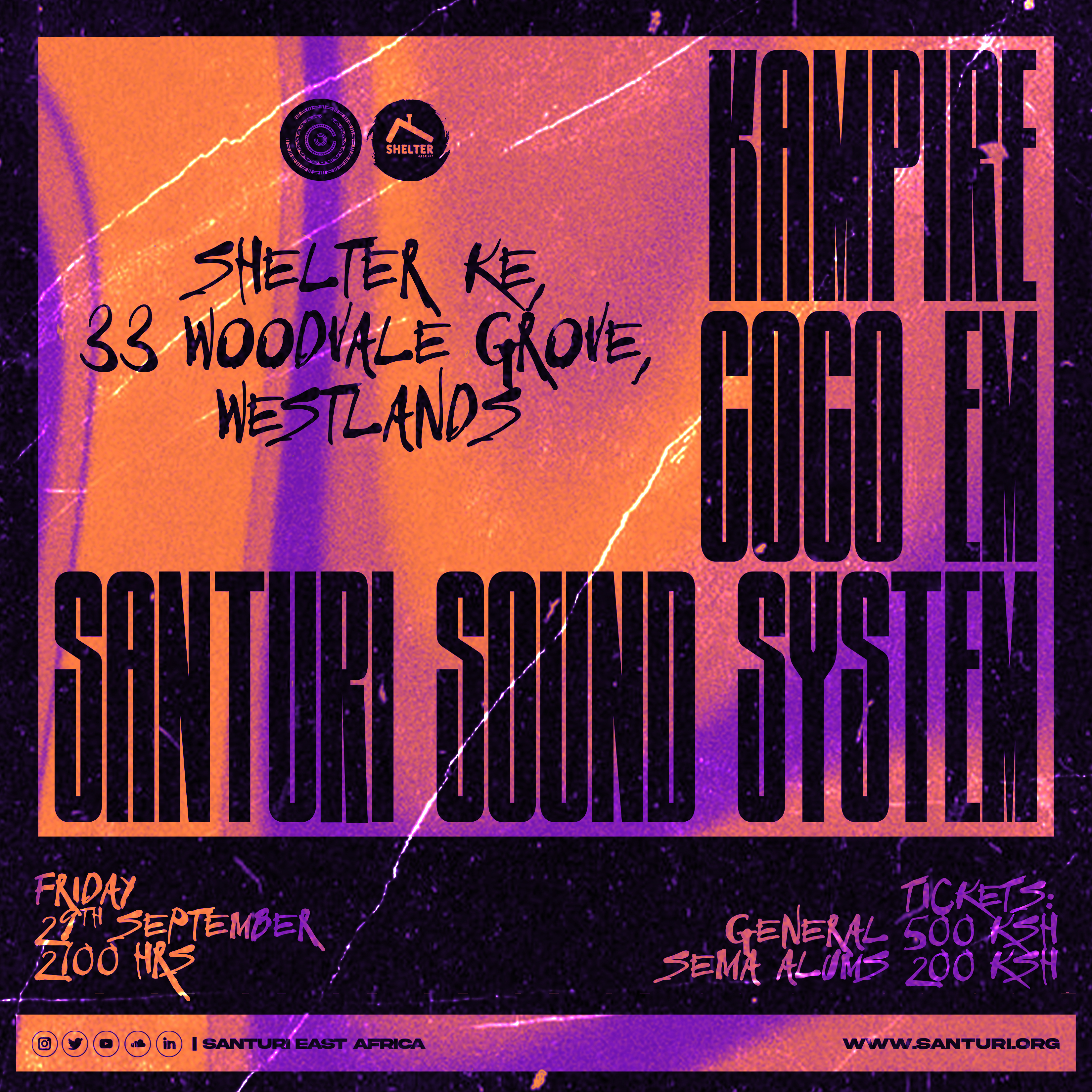 SEMA Mid-Sesester Party with Kampire, Coco EM and Santuri Sound System.
For the 8th edition of our Jadili Sessions, we'll tap into Kampire and Coco EM experiences deejaying around the world and discuss the realities of touring today, strategies for resilience for the upcoming Nairobi and Kampala music scenes, plus community building efforts that are important to them.
Producers! Beat Social returns this Sato (7th Oct). We'll be exploring sound tech, hardware, and how you can incorporate these into your productions.
We'll also have an opportunity to interact with the Umojah Sound System
@umojahsoundsystem
and get some insight into the science behind sound technology 🔊
Plenty of activities are planned for the day, including a beat challenge and live performances.
Unseen Jams with Bad Mon and Mashok.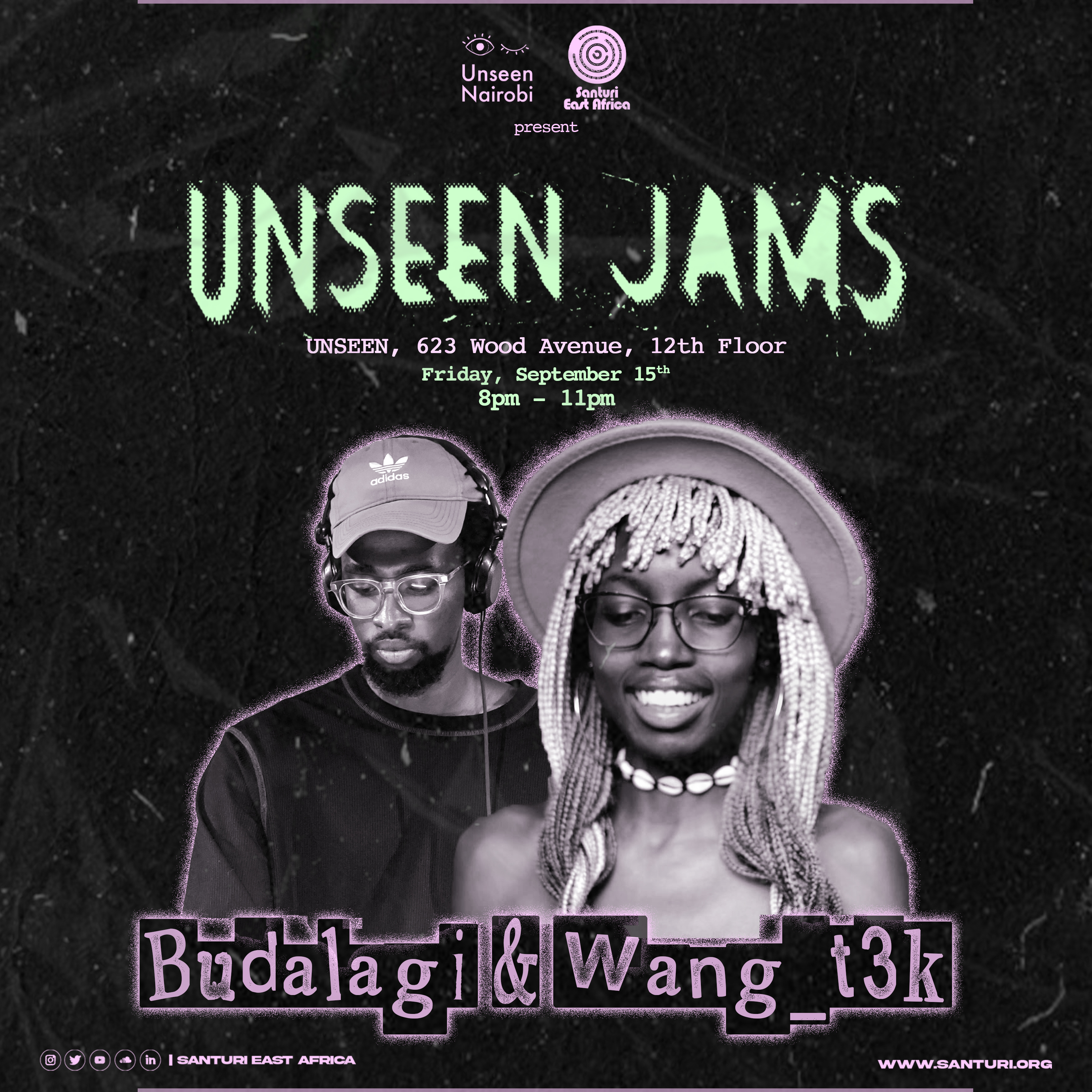 Unseen Jams with Budalagi and Wang_t3k.
CDJ WOrkshop 2.0

Introducing the first edition of Beat Social: Producer Open DAW 🎹🎚️

Up for some vinyl-sampling and flipping fun? For our inaugural beat social we'll explore the classic art of working with vinyl records, a true gem in the realm of music production.

Best of all, this is a FREE opportunity to expand your network and surround yourself with music producers, all eager to push boundaries in our regions scene.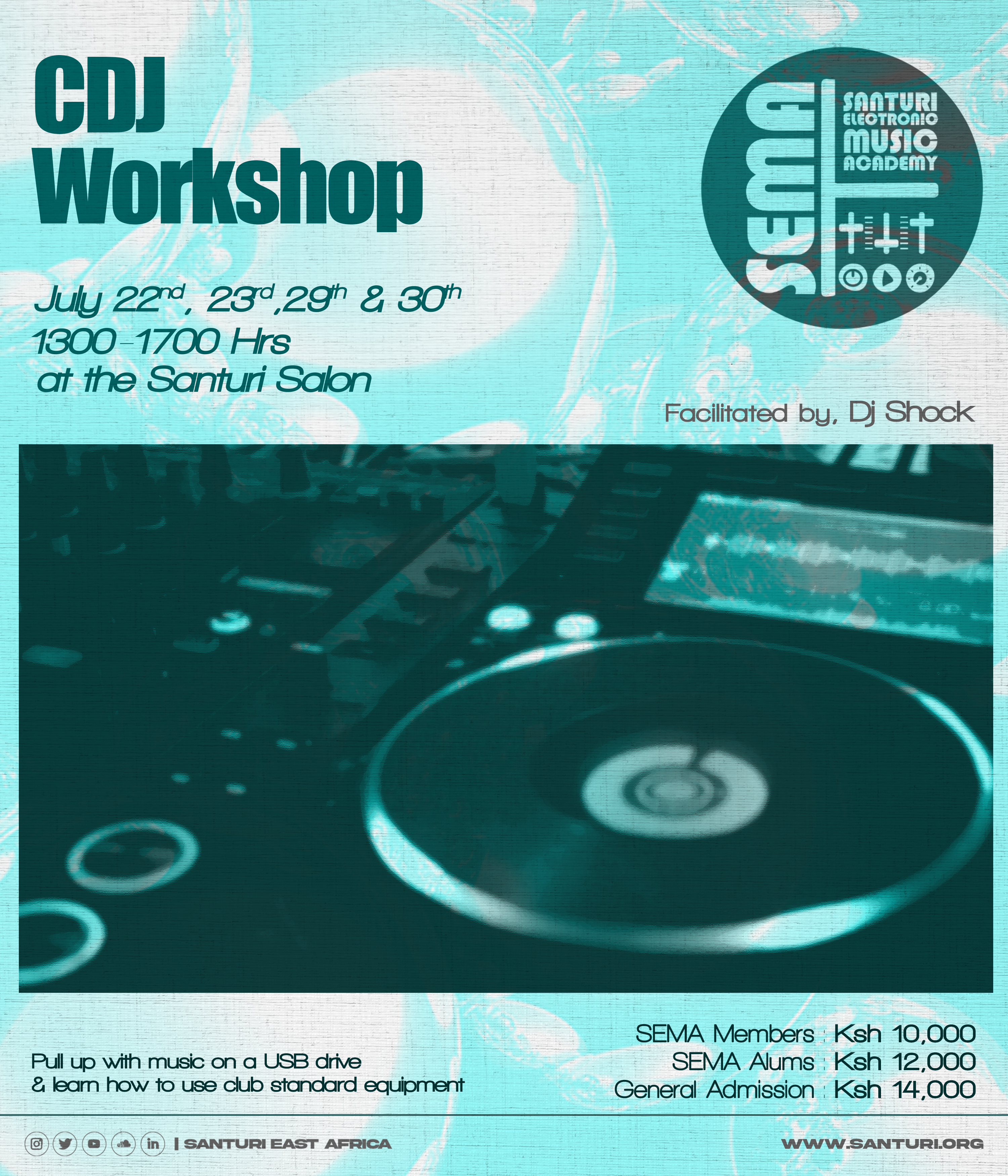 Are you a DJ with big dreams? Do you want to play in clubs, events and festivals? 🎪💥

Sign up for our CDJ workshop weekends and set yourself up for any stage you encounter!

Mark your calendars for 22-23 July and 29-30th July and leave the DJ controllers behind! We'll take you through a 4-day workshop, where you can get hands-on with industry-standard equipment! 💿🎛💿

You'll learn the essentials!

> Using Rekordbox

> Different types of CDJs and DJ mixers in the market

> Using headphones and Beatmatching by Ear

> Advanced Mixing Techniques

We'll provide the DJ equipment! All you have to do is to bring your music on a flash disk.
Are you struggling to finish tracks or get them to that 'radio-ready' sound? Do your mixes sound flat or lifeless? Want to add heavy-punching low end to your bangers?🔊💥

Whatever your goal, Santuri has you covered. Join us at SEMA for a 5-day Mixing/Mastering workshop from July 10th.

Whether you're a home producer, a musician mixing your own music, or a mixing engineer looking to step up your game, this course will teach proven techniques to craft well-produced, expertly mixed, fully polished finished tracks. 💫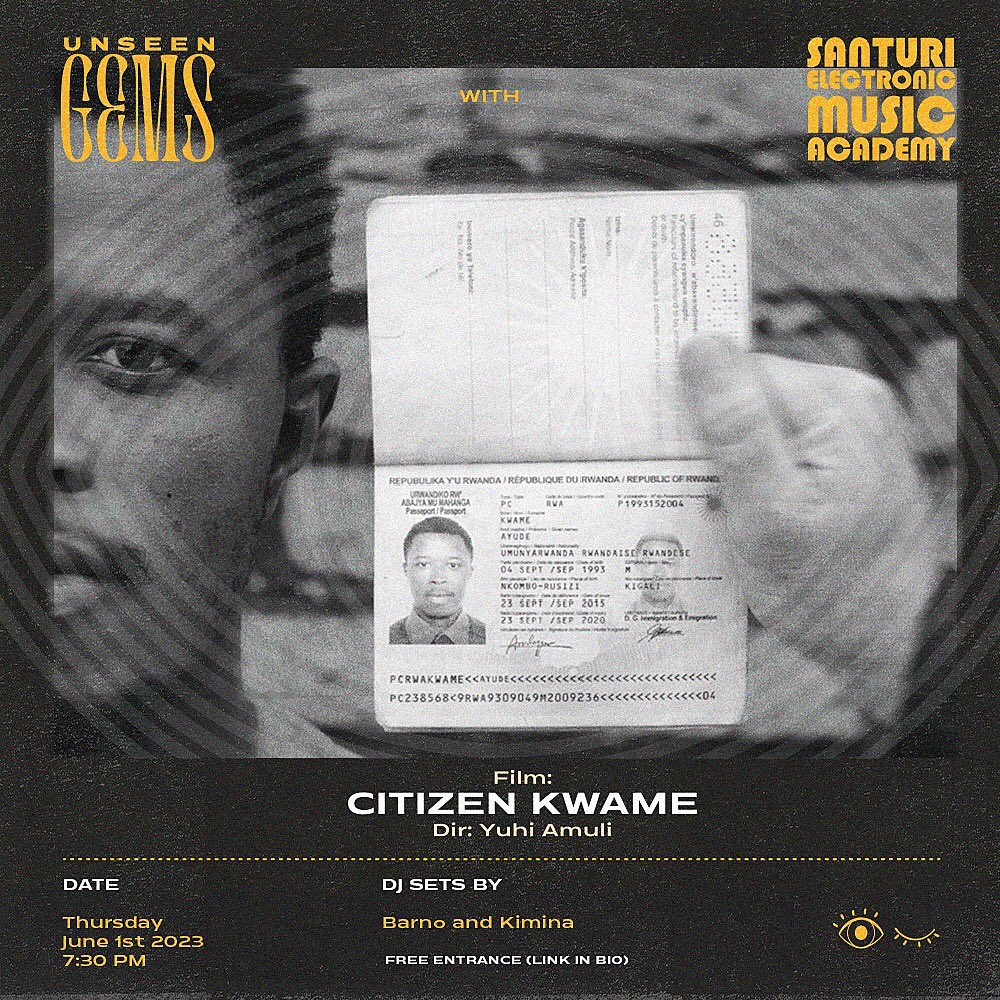 A special Thursday night, this June 1st! Unseen Gems will be teaming up again with our amazing friends at Santuri East Africa to host an outdoor projection of the captivating Rwandan film CITIZEN KWAME (2023) by Yuhia Muli.

A live score will be played by the talented electronic musicians Mercy Barno and Kimina.

This event is free and we advise to come by 7PM to secure a seat, as capacity is limited. Reserve a ticket through the link in bio. See you there! 🎶

You've recorded your music, now it's time to put it out there. But how does online music distribution work? And which type of music distribution is best for you?
Welcome to the Music Distribution 101 workshop happening this Thursday at The Salon. Facilitated by Kalanzi Kajubi (@_lanzi), come ready to learn

• The different types of distribution deals
• How to independently distribute a song using a digital music distributor
• How royalties are disbursed by different distributors and so much more.

Don't miss out on this valuable opportunity to elevate your music career.

Class starts at 3pm till 5pm this Thursday 27th April.

See you at The Salon!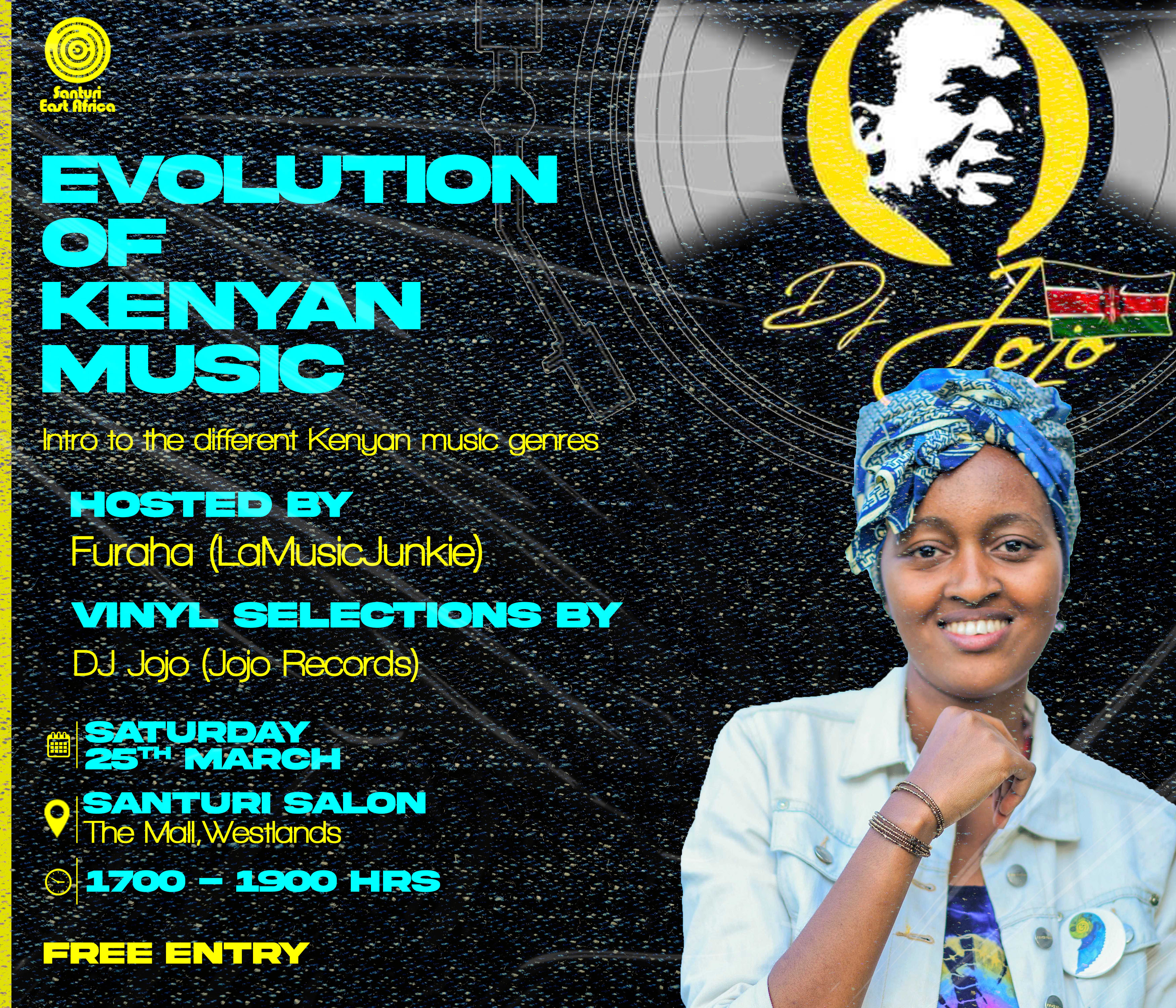 Calling all Kenyan musicians, music lovers and researchers.

We're excited to welcome you to a brand new event series at The Salon. Evolution of Kenyan Music is an exploration of the past, present and future of Kenyan music through its diverse and eclectic sounds.

Hosted by LaMusicJunkie, the first edition will be an introduction to all the Kenyan genres we know - and don't know yet. This lively discussion will be crowned by vinyl music selections by DJ Jojo of the iconic JoJo Records.

The musical journey begins at 5pm. Entry is absolutely free.

See you at The Salon this Saturday!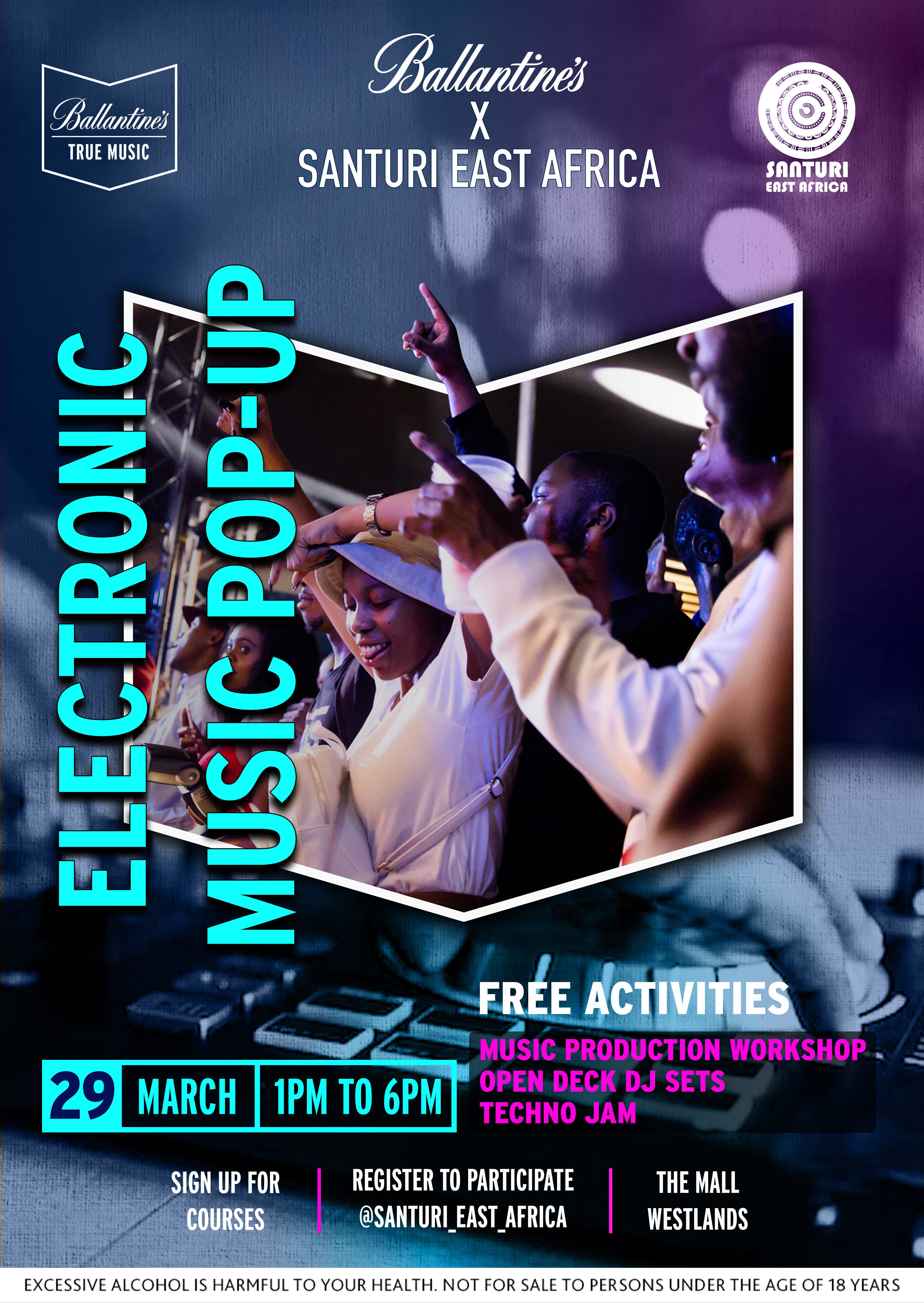 This Wednesday 29th March at The Mall, Westlands, come learn about production, deejaying and live electronics!

There will be DJ sets and a Ballantine's bar available! Invite your friends!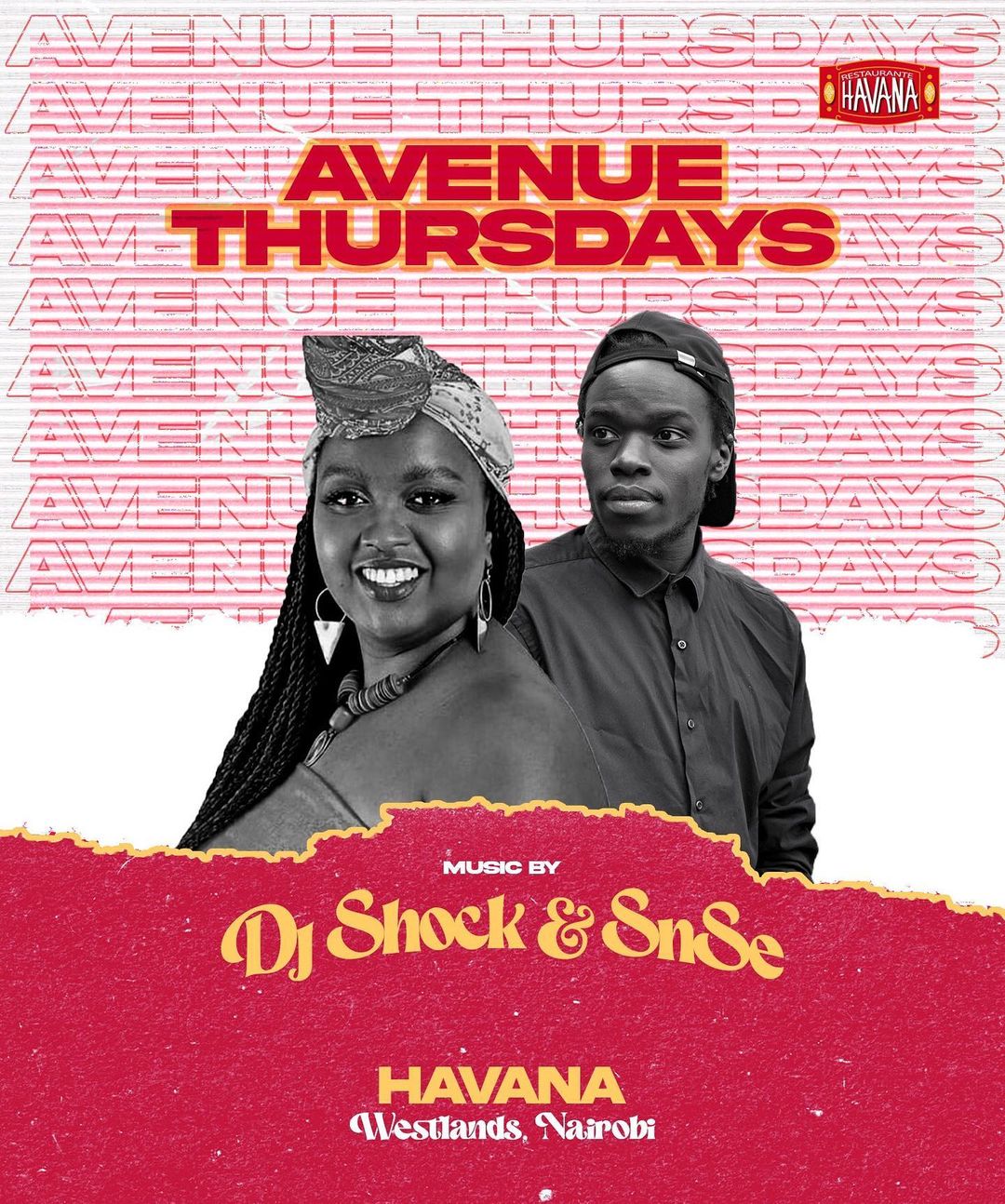 Thursday plan locked in! 🔐 Join us at Havana - Woodvale Grove, Westlands tomorrow for Avenue Thursdays from 9PM with DJ Shock and Snse.

Come enjoy the best eclectic selections on electric avenue all through the night.

Our Jadili sessions return with a deep dive into the ethics of sampling traditional instruments and cultures. This complex topic raises questions about cultural appropriation, intellectual property rights, and artistic expression. Santuri is excited to present a conversation interspersed with small performances and demonstrations that attempts to unpack some of the knotty questions around this theme. We are honored to welcome Olith Ratego and Sven Kacirek of Odd Okoddo, Labdi Ommes and Bernt Isak of Unganisha, and David Tinning and La Music Junkie of Santuri. 5pm til 9pm Saturday April 22nd.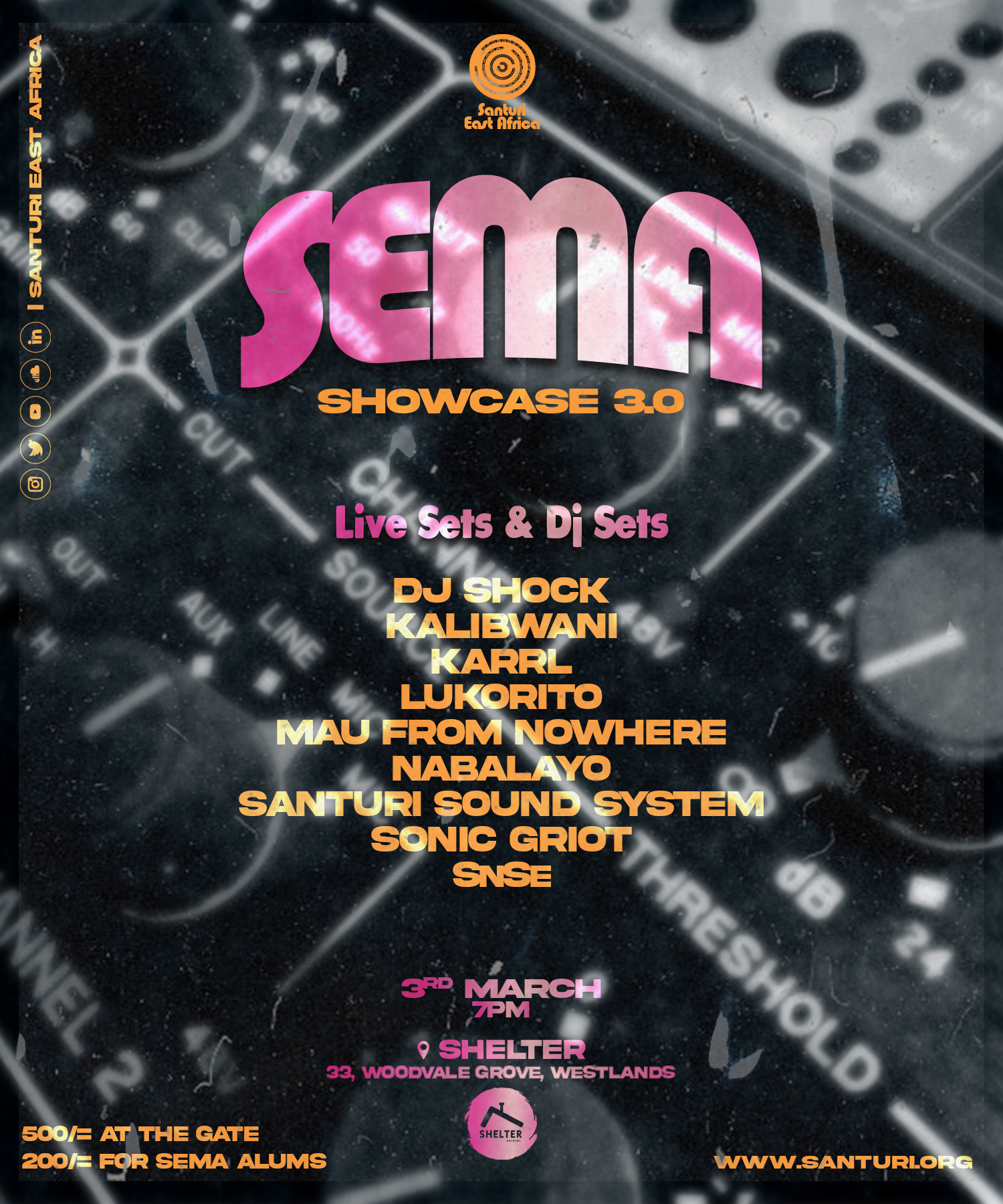 Vol.3 of our SEMA grad showcase is around the corner and we're super stoked to have you immerse yourselves in an evening of sonic greatness.
On the lineup we have amazing live sets and Dj sets by:
DJ Shock
Kalibwani
Karrl
shar.ondabeat
Lukorito
MAU FROM NOWHERE
Nabalayo
Santuri Sound System
Sonic Griot
Sense
Tickets:
500/- at the gate
200/- for SEMA alums.
See you on the 3rd of March at Shelter, 33 Woodvale Grove from 7pm till late.
The second Spotlight Sessions artist Nduta stole both the show, and the audience's hearts.
Accompanied by talented Kenyan musicians Sam100 on Ableton Live, Mango on guitar and Cee Jr on choreography, Nduta delivered a remarkable and innovative set, showcasing a beautiful blend of genres.
Her ethereal vocals and undeniable stage presence left a lasting impression on everyone who witnessed her performance.
Unseen Jams is back at Unseen Nairobi on Thursday 11th May! Mars Maasai & Onyandos link up at the decks for serious vibes!

Mars maasai, otherwise known as Mars, is a cofounder and member of Xpresso Records (XPRSO) together with friends and frequent collaborators MR. LU*, RVMP and BBYY. Their shared vision is carving a niche in Kenya's rapidly evolving alternative music scene.

SELO is a visual artist and budding musician based in Nairobi, Kenya. Her passion for music and desire to explore new avenues of expression led her to Santuri Electronic Music Academy, where she learned both production and deejaying. Her deejaying style is an extension of her visual art practice, blending different sounds and rhythms to create a unique sensory experience that pays homage to African influences manifested in various sounds worldwide.

See you there!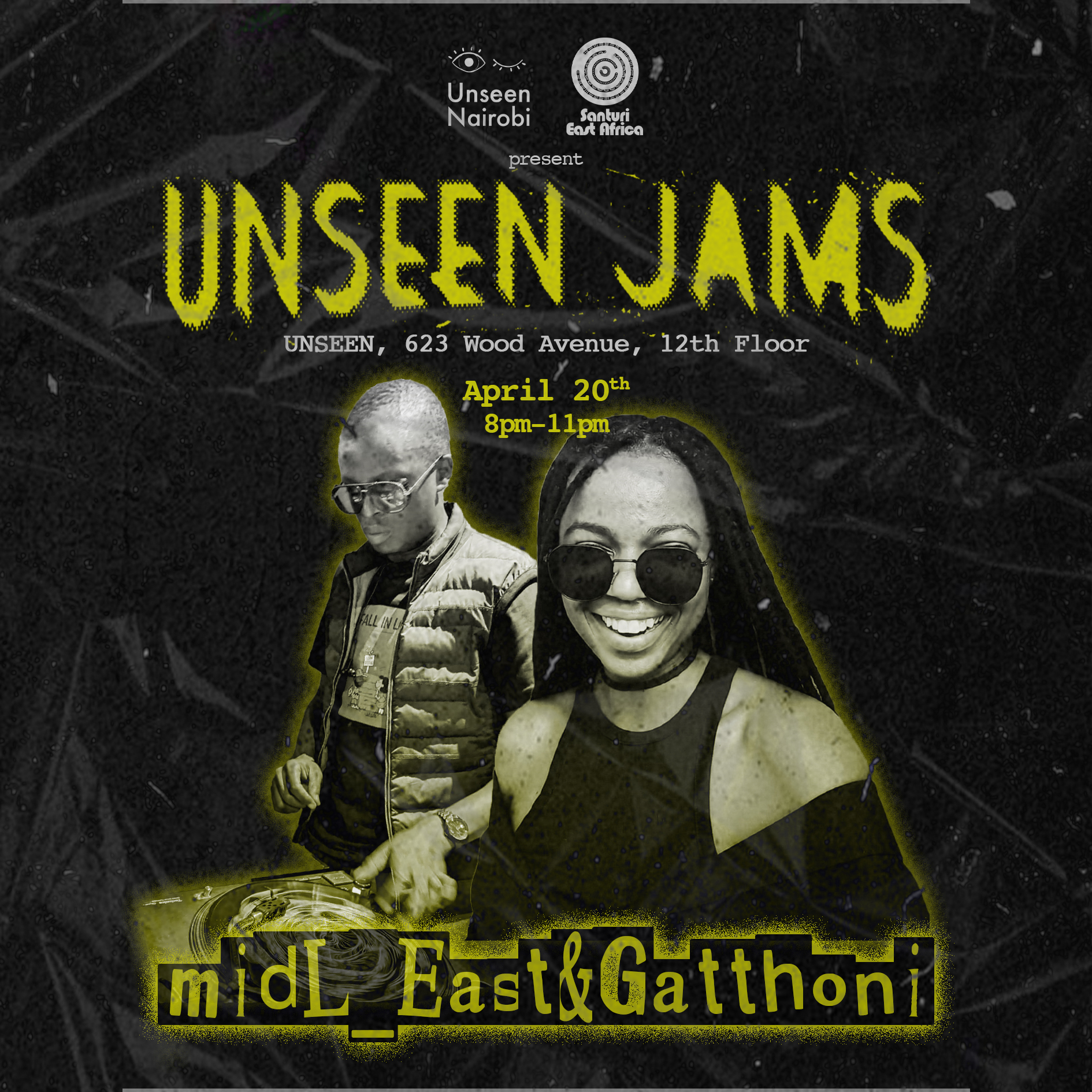 Next Thursday the 20th, we're back at Unseen Nairobi with Unseen Jams. Get ready for wild-style turntable action and dope selections spanning the Hip Hop universe and beyond!, We'll have top ranking DJ midL_East and Gatthoni.

Entry is free. As usual, Food and drinks by the amazing Unseen team. 🎉

See you there!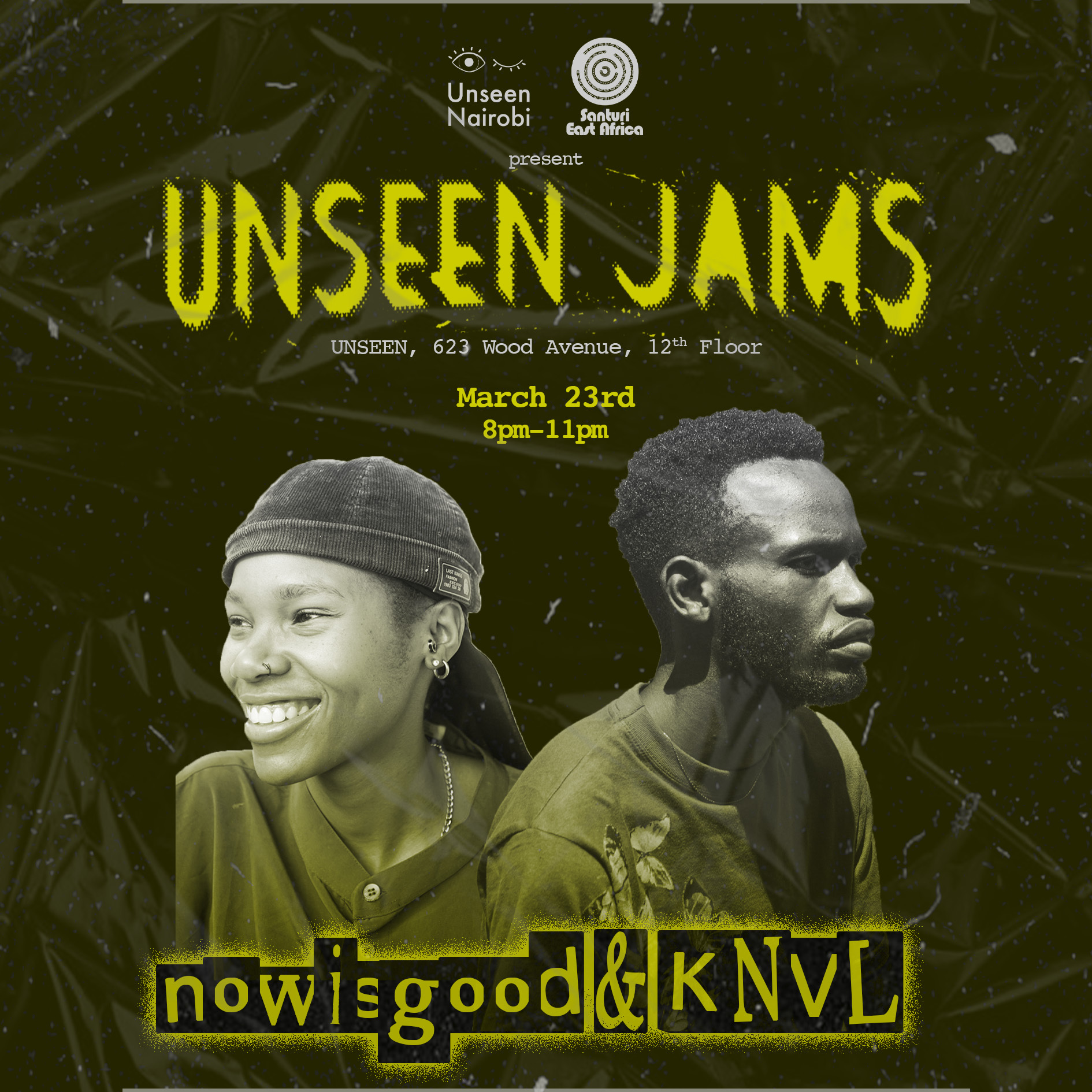 Next Thursday the 23rd from 8 - 11pm, we're back at Unseen Nairobi with Unseen Jams!

Taking us through an unforgettable sonic journey, we'll have the eclectic nowisgood with a set that incorporates a range of genres, including hip-hop, nu-Nairobi, neo-soul, and the revived underground sounds of 90s club music, as well as the crowd-pleasing KNVL who will be serving up a diverse set paying homage to the blossoming music scenes across the continent. ✈️🔥

Entry is free.

Food and drinks by the amazing Unseen team.

Excited to see y'all!

USISEME HUKUAMBIWA! HAKUNA KULALA PARTY ipo SANTURI!! LEO NI KUSABABISHA Vibaya Pale The Mall Basement,Westlands.
10PM mpaka Chee!
Come experience a proper function in Nairobi like no other courtesy of nyegenyegefest staples rey sapienz and lady hash, kuiyucreates and Nairobi chief @budalagi.Special guests in the plenty.
Kosa Uchekwe!
Santuri is teaming up with Unseen Gems & Goethe Kino this week for another live film scoring with artists Freddy Muia and Budalagi.
Prepare yourself for an exhilarating and suspense filled ride as Nosferatu celebrates its 100th year with a chilling new soundtrack!
7pm, Unseen Nairobi, Wood Ave, Kilimani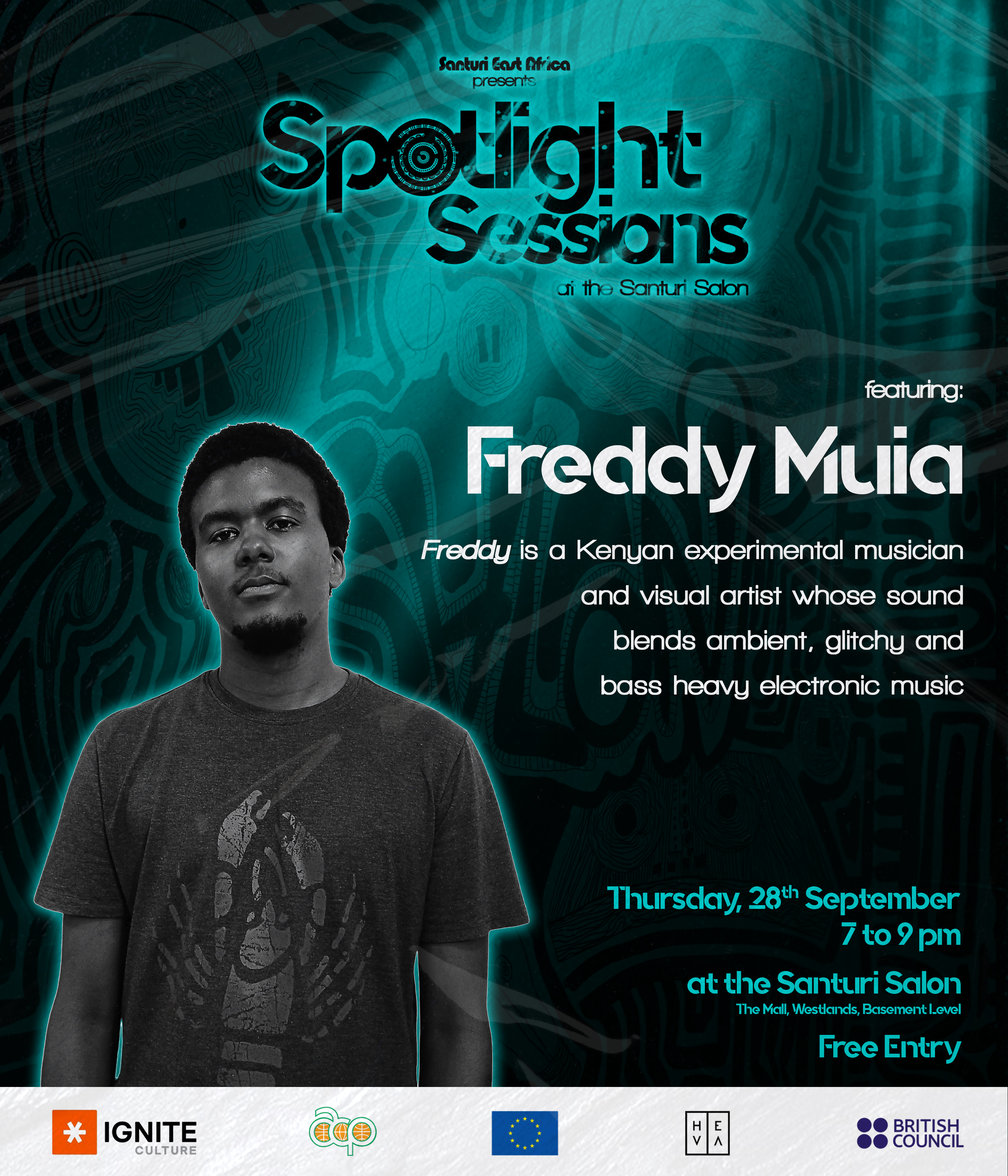 Friday the 13th January 2023, we invite you to our campus at The Mall, Basement, Westlands from 1pm - 10pm for our second SEMA OPEN DAY!!!
In this edition we will be hosting two more activities which are Jadili Panels with Project SISI - a conversation with Manch!ld & KMRU and a panel on Amplifying (East) African Artists, a conversation with Kikelomo Oludemi, David Tinning and others.
Get ready for another special Santuri showcase! Friday May 19th we return to Shelter to celebrate the diversity of artists in our community with a night of music and dancing 💫
The DJ line-up will be teeming with heavy hitters from the nairobi underground scene as well as SEMA alums.
You already know Santuri Sound System will be on site!
If you were at our last showcase in March at Shelter you know this is going to be fun! Tell a friend because this will be another great party 🎉
New exclusive & unreleased music, debut live performances and also prize giveaways!
Thanks to Ballantines Fund for supporting this event
Tickets are 500/- at the gate and 200/- for SEMA alums ✨