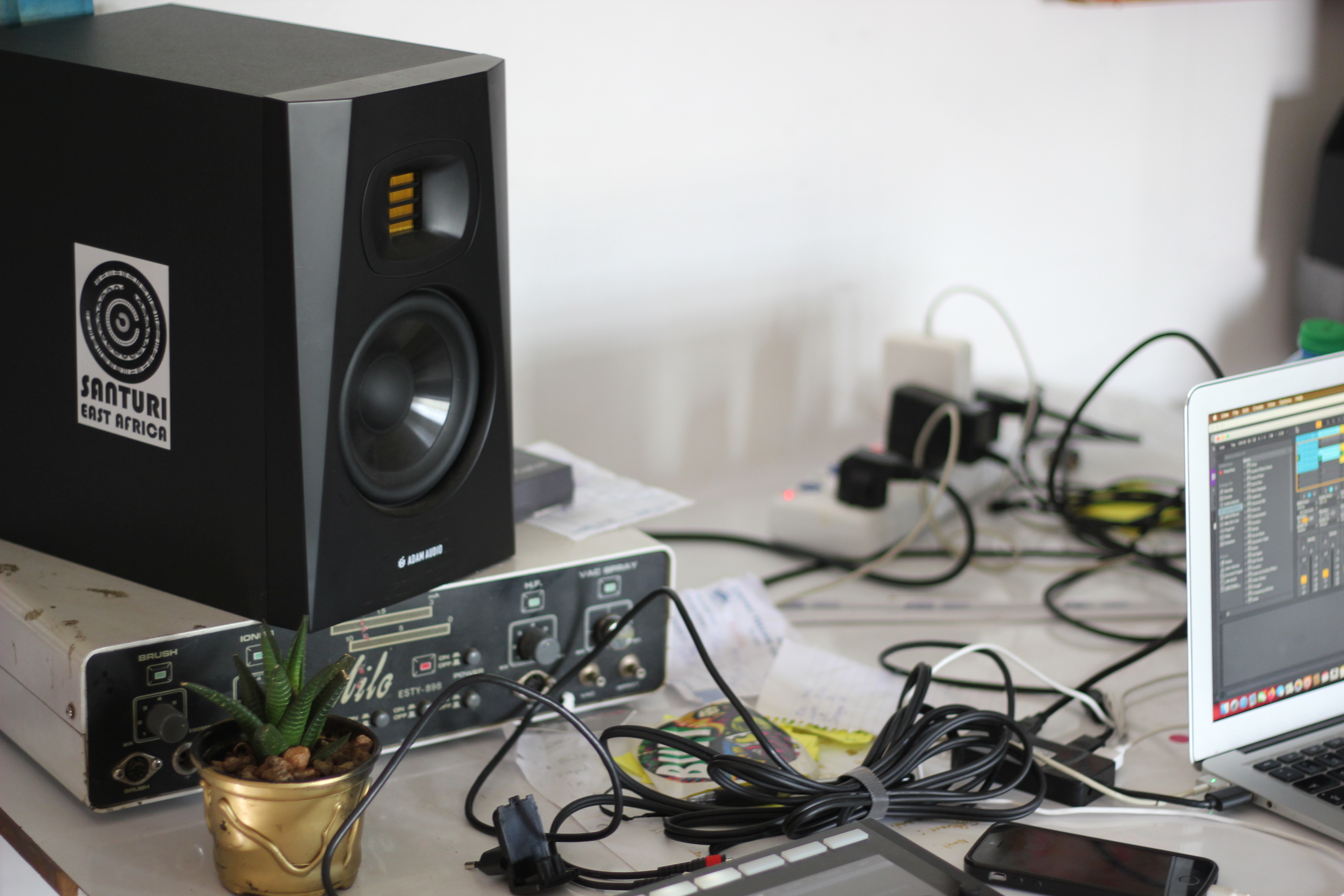 Santuri has a fully equipped recording and production studio available for hire. Located in Kilimani, the studio offers cutting-edge equipment and knowledgable staff ready to bring your ideas to fruition. Unlike many other spaces in the city, Santuri is committed to being a safe, welcoming space that encourages producers and artists from all walks of like to feel at home. We particuarly welcome female/non-male individuals and collectives, as well as LGBTQ+ communities to utilise our services.


︎We Offer︎
Studio Hire (with or without engineer)

Gear Hire (recording or live events)

Podcast Recording Support

Access to DJ Equipment (practice or recording of mixes)

Video Production / Editing

Access to Ableton / Nativie Instruments / Elektron / Novation Hardware and Software

Event and Festival Curation and Production
Get in Touch for Personalised Quotation
Gear List
Maschine +
The standalone MASCHINE + is a Wifi-enabled sampler, a drum machine, a synth, and an on-stage superpower. Leave the laptop behind, jam with your other gear, and create beats in minutes with a wealth of on-board sounds, instruments, and effects.
Maschine MK2 & MK3
The MASCHINE MK2 & MK3 are sequencers, samplers, VST/AU plug-in hosts and multi-effect units used for beat-making and performance.
Ableton Push 1 & 2
Ableton Push is an instrument for song creation that provides hands-on control of melody and harmony, beats, sounds, and song structure. In the studio, Push allows you to quickly create clips that populate Live's Session View as you work entirely from the hardware.
Boss Dr. Sample SP-303
The Boss Dr. Sampler SP-303 by the Roland Corportation offers DJs and musicians a compact, easy-to-use portable phrase sampler with CD-quality sound, 8-note polyphony, 26 onboard effects and a realtime pattern sequencer for sampling and effects processing anytime.


Komplete Kontrol S49 Keyboard

With the latest generation of KOMPLETE KONTROL, music-making becomes a more intuitive, hands-on experience. Perform expressively, browse and preview sounds, tweak parameters, sketch your ideas, then navigate and mix your project – all from one fully integrated centerpiece for studio and stage.

Venice f24 Mixer
Vf24 is much more than a compact live audio console. The DIGI-LOG VF24 is the platform for a completely integrated audio mixing, recording and signal processing - thanks to its FireWire digital audio interface which is capable of supporting up to 24 x 24 channels of high-quality, 24-bit audio.
Shure PGA DrumKit
The PGA DrumKit 7 Microphone Kit is a complete package of professional quality microphones, designed to provide excellent sound for full drum kit performance and recording. Included in the PGA DrumKit 7 are one PGA52 kick drum microphone, three PGA56 drum microphones, one PGA57 instrument microphone and two PGA81 instrument microphones, along with three drum mounts, seven XLR-XLR cables, and a carrying case.



.
Shure SM57s / SM58s


The cardioid dynamic instrument microphones offer clean reproduction of amplified and acoustic instuments. Features include contoured frequency response for rich vocal pickup, background noise reduction, and a pneumatic shock mount system.
Shure MV 88+ (Field Recording Mics)
The digital stereo condenser microphone replaces field recorders with the ability to record audio onto an iOS device. Features include 5 preloaded DSP settings, Lightning Connector compatibility, and iOS ShurePlus MOTIV app editing.
Shure MV7 Vocal (including direct to USB)


Inspired by the legendary SM7B, the MV7 is a dynamic microphone with both USB and XLR outputs for use with computers and professional interfaces alike. Connect via USB, explore additional set-up features and use auto level mode within the ShurePlus™ MOTIV app to control your vocal tone, and distance from the microphone.
Sound Isolation Panels
A full set of panels composed of compressed wool & foam are at your disposal. The sound absorbing acoustic panels absorb sound waves to reduce general noise, clarify speech and limit reverberation in walls within enclosed areas.
Adam Audio TV5 Monitors
The T5V is a two-way nearfield monitor and optimised for small control rooms. Excellent acoustic characteristics, small dimensions and outstanding performance make this studio monitor perfectly suited for use in small control rooms in music, video and broadcast production.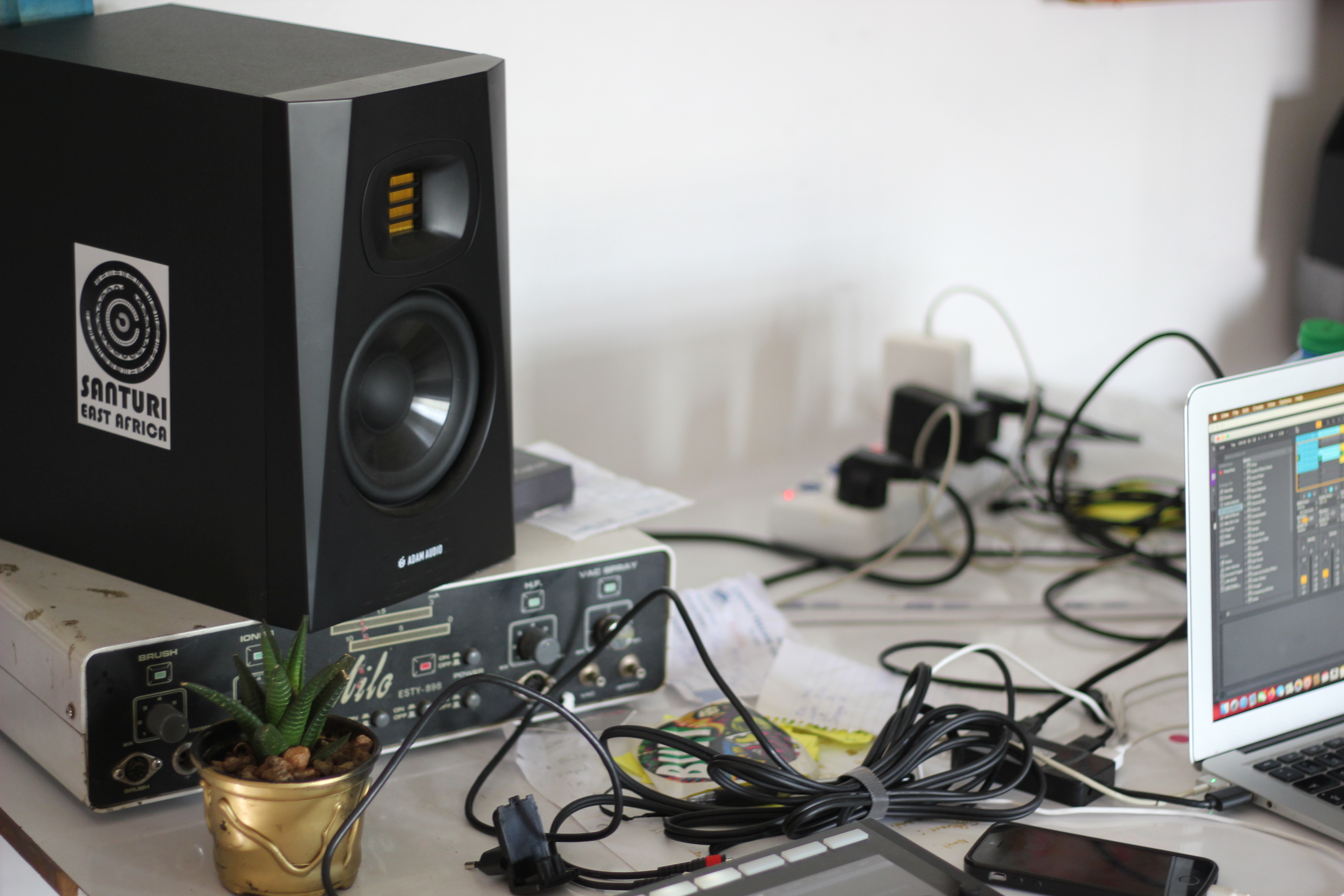 iMac 27" 201
A fully capable 2017 iMac Model with full Ableton Live 11 Suite, Native Instruments Komplete 13 Ultimate and Izotope plugins
Microphone Stands
Several flexible microphone stands for any occasion.

Audio Interfaces (Native Instruments, Focusrite, Yamaha)
Audio interfaces convert microphone and instrument signals into a format your computer and software recognise. The interface also routes audio from your computer out to your headphones and studio monitors. The studio offers a wide variety of interfaces for all your recording needs.

Elektron Digitakt
Novation TR-303

Launchpad

RATES


Half day 5,000 KES
Half-day with engineer 7,500 KES
Full day 10,000 KES
Full-Day with engineer 13,000 KES



Contact Us
studio @ santuri. org
+254 701609152