Who We Are


Santuri East Africa is a registered community organisation, founded in 2014 and based in Nairobi, Kenya. It's a hub for innovative music and artists in East Africa, and a platform that supports music producers, DJs, sound engineers and other music industry professionals in the region.

Our primary activities include training in music production and DJing, workshops, collaborative recording projects, consultancy services, and supporting East African artists on regional and international levels.

Our Mission
Develop and support a vibrant and creative East African network of music practitioners
Enable artists with limited means to experiment, innovate and collaborate
Empower artists to share work professionally to audiences both regionally and globally




David Tinning
Co-Founder & Co-Director

David co-founded Santuri with Gregg Tendwa in 2013, after a lengthy Skype call about sample culture, East African musical identity and the global electronic music scene. He's worked for Native Instruments (twice), Tanzania Heritage Project, Sauti za Busara and the Mines Advisory Group in Kosovo and Cambodia. He's also freelanced for Ableton, managed CDR Berlin, and is on the advisory board at Cashmere Radio, where he also hosts a show.
david@santuri.org
Gregory Mwendwa
Co-Founder & Co-Director

Commonly known as mwalimu Gregg Tendwa, is a specialist in communications for development and social innovation management. Over the last decade, he designed and delivered impactful strategic campaigns, social innovations and capacity building programs across a variety of social challenges. As co-founder and director of Santuri East Africa, he balances his expertise in strategic thinking with his deep networks and nose for development opportunities.
gregg@santuri.org
Sharon Onyango-Obbo
SEMA Project Lead

Sharon is a Ugandan, Kenyan-based operations consultant, record producer and mix engineer. A trailblazer of audio production in Nairobi, Kenya, Sharon's sonic palette is an elegant blend of Safari Trap, Nairobi R&B and Afro Pop. Her mission is to shape Africa's socio-economic landscape using music production, technology and innovation as agents of development. As an economist and classically trained musician, she is in pursuit of a legacy built on sustainability and creative entrepreneurship across the continent.
sharon@santuri.org
Duncan Maloba
Co-Director & Finance Lead

Duncan Maloba is an accounting professional with specific emphasis in the area of taxation,Audit and accounting having practised for more than 13 years and is based in Nairobi with vast experience in different sectors.

duncan@santuri.org

Justin Doucet
Partnerships, DJ & Events Lead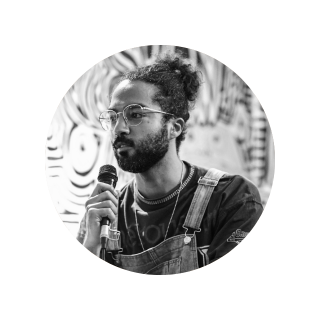 Justin (a.k.a "Huilly Huile") is a DJ/Producer and co-host of the Échantillons podcast on Montréal's n10.as webradio, He is always breaking new sounds and dropping classic tracks.

justin@santuri.org
Emma Nzioka
Consultant & SEMA Tutor

Emma (a.k.a "Coco EM") is a DJ/producer, filmmaker and photojournalist based in Nairobi Kenya with a strong passion for music, activism and creating new experiences with good people all over the world. She has performed on numerous stages such as Boiler room Nairobi, Beat hotel Marrakech, Terra Negra Tunisia, Nyege Nyege fest Uganda among others. Her sound spans afro house, kuduro to lingala and hip-hop.
djcoco.em@gmail.com

Felix Mwitah
Marketing & Communications Lead

Felix (a.k.a "Budalagi") is a Nairobi born DJ/Producer and lawyer passionate about artists rights in the scene. Diametrically opposed to Nairobi's often generic electronic music output, Budalagi has been prolifically producing tracks spanning the genre spectrum to international acclaim. A key part of the Santuri East Africa team, Budalagi has also been deeply involved in training and supporting a new generation of producers and DJs.
felix@santuri.org
James Ler
Community Resources Lead

James Ler is a music producer based in Nairobi, passionate about the intersection of music and technology. Has been actively making music as part of the trio L3GS as well as putting out solo releases as Ng'at Maler. His musical influences and inspirations range from electronic music from artists such as Burial and Four Tet to local meledic sounds of Ayub Ogada.
james@santuri.org
Victor Muindi
Technical Officer & SEMA Tutor

Kimina is a Nairobi-based producer and artist who has been honing his skills in music production and collaboration over the past several years as a regular member of the Ableton producer meetups. With an interest in music, education and technology his sound and direction is clear to see as a community driven individual.

victor@santuri.org
Furaha Ruguru
Santuri Salon Lead

Furaha is a Kenyan music journalist, content creator and digital marketer with a healthy addiction to music. When she's not making kombucha, she's hosting community events that bring creatives together to learn from each other. Her drean is to see Kenyan music and culture celebrated locally as well as globally.


lamusicjunkie.ke@gmail.com
Bryan Murgor
Educational Lead & SEMA Tutor

Bryan, aka 'SnSe', is a graduate of the first SEMA cohort, and the TTT training. A talented producer, musician and DJ, he's currently one of the key tutors on the SEMA course.

brayosensei@gmail.com
Jacqueline Mugo
DJ Consultant & SEMA Tutor



A veteran in Kenya's DJ industry, Shock is a DJ and budding producer who has travelled across the country and as far as Kampala, entertaining local and international crowds, online around the world as well as offline before diverse audiences.

She is also recognized and interacts with government bodies and NGOs, lobbying for the welfare of DJs. Many of her students have gone on to make an impact and play in multiple events.

djshockafrica@gmail.com


Tabitha Nyamweya
Finanace & Administration Officer


Tabitha, a software developer turned music producer, is on a mission to fuse her technical prowess with her love for music. She has delved into the world of music production as a two time SEMA alum, with influences ranging from classical music to Korean pop music as well as years of experience as a multi-instrumentalist. She is a frequent collaborator with other artists, and she is always looking for new ways to experiment with sound. Tabitha is a passionate advocate for diversity and inclusion in the music industry, and is part of the femme sound engineering collective, SoundsystersKE.

tabithasanturi@gmail.com


Karrl Omuom
Content Officer



Karrl is a music producer, DJ, and visual artist based in Nairobi, Kenya. He has a wide range of skills and experience in a variety of musical genres, from Afro music to dancehall/genge to alternative. He has lent his sound to the Afro music trio 'L3GS', the dancehall/genge duo 'KGB', and the recently constituted alternative duo, K.Sh. He has also worked with artists and producers from across East Africa, and has played on multiple stages, showcasing his remarkable ability to curate a vibe.
In addition to his musical talents, Karrl is also a trained journalist. He has exceptional videography, photography, and graphic design skills. He uses his artistic eye to help artists and organizations create a personalized image.

omuomc@gmail.com


Mercy Barno
Technical Support Volunteer

Barno's a Music Producer, DJ & Audio Engineer based in Nairobi, Kenya. She's passionate about creating captivating sounds and delivering unforgettable /performances

mercybarno12@gmail.com





We've had a few nice words said about us. You can read some of them here.

'I'm not winning unless all of us are winning': the Kenyan DJ programme promoting community and inclusivity
It's late one Saturday night and the Mall, one of the oldest shopping centres in Nairobi's Westlands district, is deceptively quiet, a stark contrast to the busy streets outside. But walk down one flight of stairs and the dimly lit basement is teeming with life as bodies pulsate to the heady rhythms of jungle, dancehall, UK funky, and South African gqom and amapiano.
The Mist
– the kind of underground club where you can catch anything from grime to glitch, and the
resident DJ
takes to spinning Pharoah Sanders at 4am – is hosting nu.wav, an event organised by recent graduates of Santuri Electronic Music Academy's DJing 101 programme. Course mates and clubbers surround the decks, dancing and cheering loudly as each person finishes their set.
Santuri Electronic Music Academy (SEMA) is the educational arm of
Santuri East Africa
, a Nairobi-based platform that supports east African music producers, DJs, sound engineers and other music industry professionals. SEMA runs courses in both music production and DJing, and the focus is placed on creating community and culture as much as it is on technical skills.
Full article:
https://www.theguardian.com/music/2023/jul/10/kenya-dj-programme-promoting-community-inclusivity-santuri-electronic-music-academy

Modern-Day Fan Forums: The Renaissance in Online Music Communities
Next-gen ventures such as the metaverse, interactive livestreaming and chat apps want to re-centre the music industry around fans—a move that could make artists and businesses more financially self-sufficient.
Santuri, based in Nairobi, is a social enterprise that seeks to advance East African music. Currents.fm helps the organisation promote its electronic music academy programme, allowing students to showcase their DJ sets, live performances and productions to listeners worldwide. Artists can also receive money directly through an integrated tips feature.
"We've been able to increase our reach in terms of a wider audience and gain more supporters, who in turn support the artists," said Santuri team member Felix Mwitah. "It's also an avenue to channel public-facing products that students enrolled in our music academy create."
Full article:
https://ra.co/features/4200

Santuri Alumni Open Up About Their Experiences With The Organization's SEMA Programme
If you're a Nairobi music enthusiast, then you know more than most that the scene is diverse and bursting with talent. Artists across genres both up-and-coming and established capture the essence of what younger Kenyan generations are all about: hustling hard and enjoying life. Though it's an exciting time for the scene, the industry in Kenya is not without its shortcomings. There are major discrepancies between the music industry, government entities in charge of distributing profits, and artists.. Moreover, clear-cut pathways necessary to succeed in this industry are presumably nonexistent.
Enter
Santuri East Africa
— a non profit arts organisation that supports East African music producers, DJs, sound engineers among other music industry professionals primarily in the electronica genre. Santuri works towards bridging the gap between artists and the industry by empowering artists to further their careers and build connections with other industry folks. They created the Santuri Electronic Music Academy (SEMA), with support from the Goethe-Institut, a programme that teaches up-and-coming artists several skills to help further their career.
Full article:
https://tangazamagazine.com/features/2022/3/24/santuri-alumni-open-up-about-their-experiences-with-sema
Santuri Academy: A game changer for East Africa's electro scene
East Africa is an important breeding ground for diverse electronic genres such as gengetone and the localised form of Chicago drill, with many talented musicians consistently finding new ways to connect their language, culture and experiences with sounds originating outside of Africa.
However, an apparent lack of music education and resources to harness their skills means that a vast amount of musical talent in the region often goes uncultivated and underdeveloped. This makes the work of organisations such as the Nairobi-based
Santuri Electronic Music Academy(link is external)
(SEMA), a non-profit organisation committed to educating musicians in the East African region, crucially important.
Santuri's journey started in 2004 before its co-founders David Tinning and
Gregg Tendwa
took the big leap of establishing a formal institute for music education.
Full article:
https://www.musicinafrica.net/magazine/santuri-academy-game-changer-east-africas-electro-scene
Partners in Progressive Education: Catalyst Teams up With Santuri East Africa
Catalyst Education Lead, Jamie Thomas, was recently invited by trailblazing music production organisation, Santuri East Africa, to deliver a masterclass on our project-based learning model.
At Catalyst, we put artistry front and centre, focusing on the real-world application of creative skills through
project-based learning
. It's an educational model that is sure to make a profound impact on the creative industries in the years to come, and it doesn't end at the boundaries of our Funkhaus campus. Part of our long-term mission is connecting with other progressive institutions around the world, so that we can break ground together in the forging of a new educational paradigm.
Full article:
https://catalyst-berlin.com/stories/santuri-east-africa
Sounds In Context: New Instruments from East Africa
Around a year ago
we reported on a movement
from East Africa that explored a new sense of excitement in the region, working at the intersection between traditional musical approaches and electronic music culture. A year on and things have continued to develop at pace. New festivals, parties and events have sprung up in Kenya, Tanzania and Uganda focussing on a desire to represent and promote an 'Afro-futuristic' or 'World Music 2.0' attitude – and new styles, interesting collaborations and fresh approaches to live performances have flourished.
Collectives like
Santuri East Africa
have been at the forefront of this development, and have begun to further the conversation by looking at technology as a platform for traditional culture and heritage. One of the strands for this has been to encourage the development of an East African sample library, including new digital instruments based on and inspired by traditional instruments from the wide and varied cultures of the region. Four such instruments have been developed into unique Ableton Live Racks by Johannesburg's
Emile Hoogenhout (a.k.a Behr)
and can be
downloaded for free
.
Full article:
https://www.ableton.com/en/blog/sounds-in-context-santuri-safari/

TALKING TECH WITH COCO EM
As well as being a highly valued member of the creative community, she is the programmes coordinator for Santuri East Africa Studios, a Nairobi-based non-profit organization who empower East African artists through their mentoring. This has allowed her access to a wide range of Kenya's musical talent; both burgeoning and established. The communal energy is central to her newest EP
Kilumi
, on which she reflects the beauty of a musical identity shaped in the history, spirit and talent of those around you.
In the below interview, Coco Em walks us through both the home and community studios that have helped her to shape her sound and shares the stories behind their gradual creation.
Full article:
https://www.stampthewax.com/2022/06/03/i-am-mostly-driven-by-my-overall-energy-and-feeling-talking-tech-with-coco-em/

SANTURI EAST AFRICA: BRIDGING COMMUNITIES THROUGH SOUND
FOUNDED IN 2014, SANTURI EAST AFRICA IS A NON-PROFIT ARTS ORGANIZATION BASED IN NAIROBI, KENYA...
Over the years, Santuri has surpassed some huge milestones, thanks to various successful projects. One such success story was the launch of
Femme Electronic
, an African platform for female producers and DJs which they worked on in tandem with DJ Rachael.
One of the problems that Santuri has been trying to combat however, is getting the necessary high-quality equipment to those who need it. "For East African artists to get their hands on hardware the import duties are really prohibitive," explains Santuri co-founder David Tinning about the challenges local musicians face. "In some instances an East African artist will have to spend 50% more than their European counterparts."
Full article:
https://www.adam-audio.com/en/news/adam-users/santuri-east-africa/
For press and media inquiries contact:
felix@santuri.org
Email: team@santuri.org
Tel: +254 (0) 768 226 199
Find Us Here:
Santuri East Africa

Basement, The Mall,
Chiromo Road / Ring Road Westlands,
Nairobi, Kenya